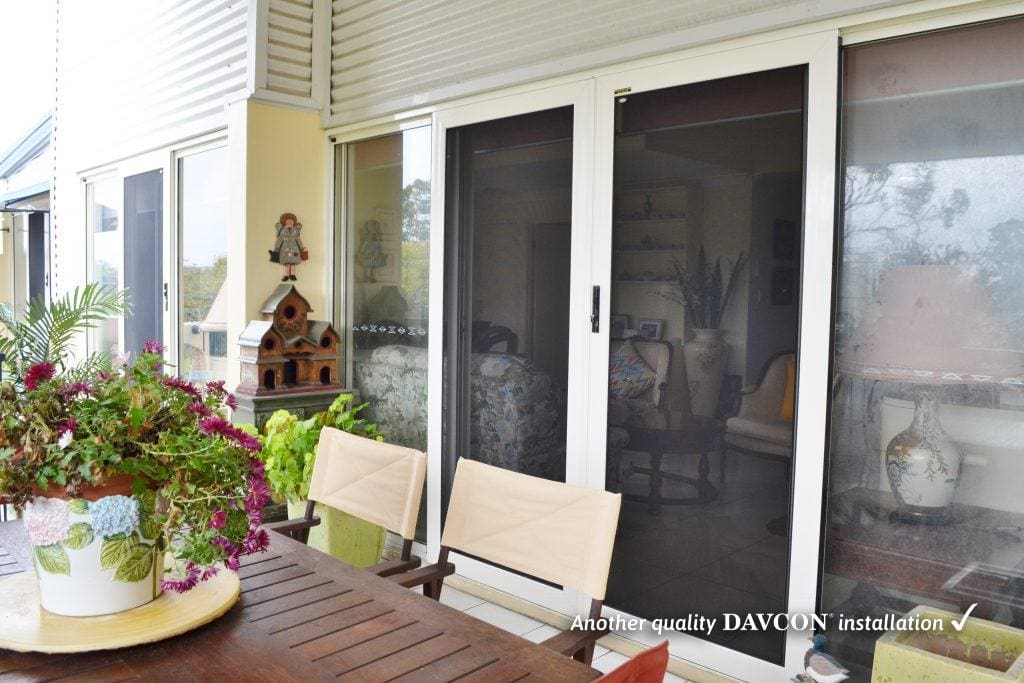 Madonna will be the first to tell you that 'we are living in a material world'. Practically every product you think of can be sourced at the click of a button on the internet. Including security screens, packaged and posted directly to your door.
Tempting, right?
But… just because it's possible, doesn't mean it's plausible.
So, you want to protect your home and family, but you don't want it to cost the earth? We hear you.
We've listened to our customers and we understand that the number one thing that's most important to you is 'feeling safe and confident' in your own home. When it comes to buying screens for your windows and doors, you have two options:
Purchase your screens online and install them yourself
Purchase your screens through a trusted supplier, have a trained professional do an obligation-free in-home quote and install them for you
On face value, it may seem like option 1 is the leader, however the underlying value of knowing that your home and family are protected is priceless.
So, let's see how YOU 'measure up'! Before you go searching for the cheapest security screens online, ask yourself these questions:
1. Do I Know What Product/s I Need?
Knowing which type, colour and style of security screens would best suit the windows and doors of your home can be difficult. Usually, this requires a trained professional to determine what product would be most effective.
Think about it like this…
Would you expect yourself or someone with no building qualifications or experience to be able to build a house?
Probably not.
Yet, so many people end up having a negative experience trying to buy screens online because they have done just that.
Still think you're up for the challenge? Consider this…
Does your door need a sliding Crimsafe door, a Crimsafe bi-fold door, a Crimsafe stacker door or a Crimsafe hinged door? Would a Crimsafe Safe-S-Cape, fixed panel or sliding security screen be best for your windows?
Ummm…confusing, huh?!
But it doesn't have to be, when you organise a free measure-and-quote with one of Davcon's trained employees who can assess which product is right for you.
2. Can I Provide Accurate Measurements?
Most online security screen suppliers require you to enter your own dimensions when ordering screens online. The problem with this is that the measurements you take may not be the correct measurements needed for manufacturing. Providing measurements for your new screens is not as simple as providing a height and width measurement. You must measure the door opening and the height and width of the door in three places. As well as this, you're required to decide which side you want the lock to be on, and measure the top of the existing handle, among other tasks. If just reading these steps is giving you mini heart palpitations, don't stress. Our friendly staff take care all this when they visit your home in-person for a check and measure and an obligation free quote.
Accurate measurements are essential for the screens to be effective. Inaccurate measurements can result in the screens being unable to be used, costing you more money in the long run. Sourcing alternative products to replace your initial purchase is time-consuming, costly and frustrating.
3. Am I Confident Installing My Products?
Are you excited by the prospect of DIY projects or does the thought of setting up an IKEA flat-pack make you want to curl into a ball and cry? This is usually a good indicator of whether installing your own security screens is a good option for you. Most online security screen suppliers are 'supply only' businesses, which means you are responsible for installing your own screen/s. The installation process can make all the difference to the effectiveness of your screens. Poorly installed screens can potentially be pulled out of the window or be unscrewed if the incorrect tools and screws are used. Kind of defeats the purpose of having screens at all if they can be easily tampered with, huh?
The installation process can be straight-forward, provided you are able to follow written instructions or video materials AND provided you have done an accurate check measure. For example, not checking for any obstructions such as lights awnings, walls, stairs and uneven ground or concrete that may hinder the swing path of a new security door, which could mean that your purchase is unable to be installed and therefore, pointless.
When you buy security screens from Davcon Security Screens, we include the installation of the screens by one of our trained installation team, so you don't have to waste hours of your weekend worrying about if your security screen are actually secure.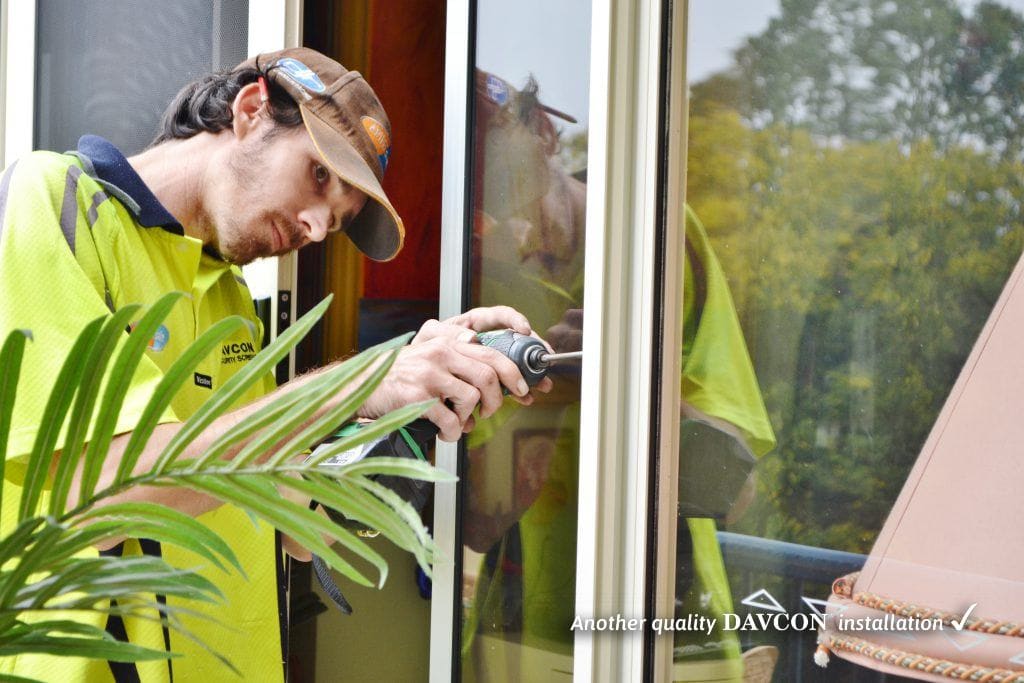 4. Do I Have Access To The Right Tools?
While most security screen suppliers will provide you with all the necessary fasteners, drivers, drill bits and spacers required to install your security doors and windows, you will still require tools, such as:
Metric tape measure
Pencil
Phillips Screwdriver
Straight edge that is longer than your hinged door width
Cordless Drill
Rivet Gun
Nail Punch
Hammer
12mm Chisel or smaller
Hacksaw (potentially)
Utility Knife
If you don't have access to these tools or have never used these tools before, you will need to do this to correctly and safely install your purchase.
5. Am I really Getting Value For Money?
You want your home and family to be safe, but you still want to be able to afford that holiday away at the end of the year. It makes sense that you want an affordable solution. Online screens are certainly tempting but can be troublesome.
Here's the thing…
You won't receive the full benefit of security screens if they are not manufactured and installed correctly. This means that the screens you purchase online for a slight discount, will not be good value for money if they don't serve their purpose of keeping your property secure or are unable to be used. What may appear to be the cheaper alternative, may cost you more money in the long run. Crimsafe products are known for being durable and come with a 10-year Regular warranty on the frame and mesh.
6. What's The Return Policy & Can I Cancel Or Change My Order?
You'll find that some security doors and screens manufactured by online providers custom make their products, which means they cannot be re-sold and are non-refundable. Similarly, as the manufacturing of your order starts straight away, you may find that orders cannot be cancelled or changed.
We understand the convenience of purchasing goods online, however we know you'll find getting a quote for your Crimsafe security screens with Davcon worthwhile. You can call our office and talk with one of our friendly staff members to organise a free, no-obligation, in-home quote. You can also visit our showroom at any time to see and test Crimsafe security products for yourself.
Don't Get Click-happy – Get Crimsafe
So before you buy security screens online, stop and think…
Am I getting the most effective product for my house?
Will the security screens fit my doors and windows correctly?
Will my screens be installed correctly and safely?
Is my time and money investment good value?
Are these screens going to effectively secure my property, so my family feels safe and confident at home?
Are the screens durable and guaranteed to last?
If, after weighing up your options, you decide to work with an established and trusted home security team, organise your free measure and quote and save those click-happy purchases for shoes and clothes!